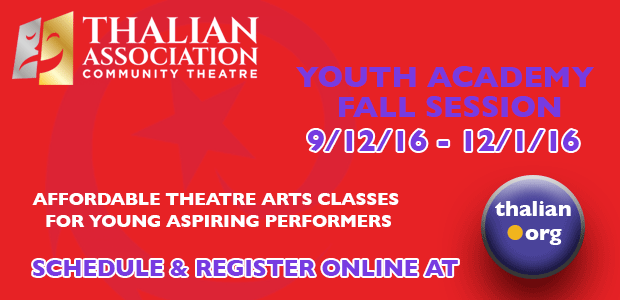 FOR IMMEDIATE RELEASE
CONTACT:
Susan Habas
Thalian Association Community Theatre
910-251-1788
THALIAN ASSOCIATION COMMUNITY THEATRE ANNOUNCES YOUTH ACADEMY FALL SEMESTER
Exciting New Classes & Returning Favorites Begin Next Week
WILMINGTON, NC – Thalian Association Community Theatre today announced the fall 2016 semester of theatre arts classes and workshops for budding young actors ages 6 – 18 with special "Tots" classes for children ages 3 – 6.
Classes will be held in two locations, the HBHUSO/Community Arts Center at 120 S. 2nd Street and the NE Branch of the New Hanover County Library Executive Development Center at 1241 Military Cutoff Road. Registration is available online at thalian.org or at the HBHUSO/Community Arts Center, Monday – Friday 10 am – 5 pm. The fall semester will begin September 12, 2016 and continue through December 1, 2016. All students will be invited to perform in the Academy Showcase on the 2nd Street Stage in the Community Arts Center at the end of the semester.
The Youth Academy provides an affordable opportunity for all children to develop and express their passion for live theatre. All classes and productions are aligned with the North Carolina Essential Standards and the National Standards of Arts Education. Scholarships will be available on a first-come basis.
The curriculum includes returning favorites; Behind the Curtain (including Theatrical Make-Up), Star Power, Drama, In the Spotlight and Gotta Sing Gotta Dance. For younger students TACT Tots classes offer a wonderful introduction to music, dance and expression. Artistic Director Chandler Davis will teach Musical Comedy & Characters, a class teaching the fundamentals of musical comedy, comedic timing and character development. New classes focus on tap dancing, film making, improvisation and audition techniques with Beginning Rhythm Tap, TACT Film Makers, Improv Mania and Fake It 'Til You Make It. Full details about classes and tuition are available on thalian.org.
"We are excited to offer such a great lineup of classes taught by local theatre professionals," said Thalian Association Community Theatre Executive Director Susan Habas. "The Youth Academy offers opportunities for young performers to learn new skills and perfect techniques."
Established in 1788, Thalian Association Community Theatre is a non-profit, membership organization dedicated to enhancing the Cape Fear region through live community theatre and arts education. Thalian Association Community Theatre produces five major productions annually on the Main Stage at historic Thalian Hall, four productions at the Red Barn Studio and professionally manages the Hannah Block Historic USO/Community Arts Center for the City of Wilmington. The youth theatre program offers training and performance opportunities for children age seven through high school seniors. In 2007, Thalian Association Community Theatre was designated North Carolina's Official Community Theater by the state legislature.