Thank You to Special Co-Producer The Community Foundation Of NC East!
Spotlight on HBOT for Veterans
NC Senate Bill 442 has appropriated funds to provide for Hyperbaric Oxygen Therapy Treatment for North Carolina Veterans Suffering from Traumatic Brain Injury (TBI) and Posttraumatic Stress Disorder (PTSD).
        The Community Foundation of NC East, Inc, a nonprofit corporation located in Greenville, NC, is the fiduciary charged with managing and administering the program.
Tickets $34, Youth Tickets $22, Senior Discount for Sunday matinees $29
Thalian Hall preservation fees, taxes, and handling charges will be added to all tickets
Thalian Hall Box Office 910-632-2285
On sale August 15, 2022
Book by Joseph Robinette
Music and lyrics by Benj Pasek and Justin Paul
Based on the motion picture A Christmas Story distributed by Warner Bros., written by Jean Shepard, Leigh Brown, & Bob Clark and upon In God We Trust: All Others Pay Cash written by Jean Shepard
Produced with permission of Warner Bros. Theatre Ventures and Dalfie Entertainment.
This musical is based on the movie classic that runs round-the-clock on television every Christmas. Set in the 1940s in the fictional town of Hohman, Indiana, the musical follows 9-year-old Ralphie Parker and his quest for the Holy Grail of Christmas gifts—an Official Red Ryder carbine-action 200-shot Range Model air rifle. Rebuffed at every turn with a similar echoing response, Ralphie plots numerous schemes to achieve his desperate desire for the coveted BB gun. All the iconic scenes from the movie are here: Ralphie's friend, Flick, getting his tongue stuck to the flagpole; his brother, Randy, getting dressed in his snowsuit; the bullies, Farkus and Dill; the leg lamp award; the bunny suit; Christmas dinner; and many others.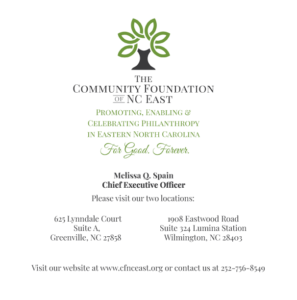 Promoting, celebrating and enabling philanthropy for good. Forever.
There is no more significant way to leave your legacy than the power of giving. The Community Foundation of NC East specializes in assisting families, individuals, and companies with putting their charitable gifts to work to create a legacy that will last for generations and change lives for good, forever.