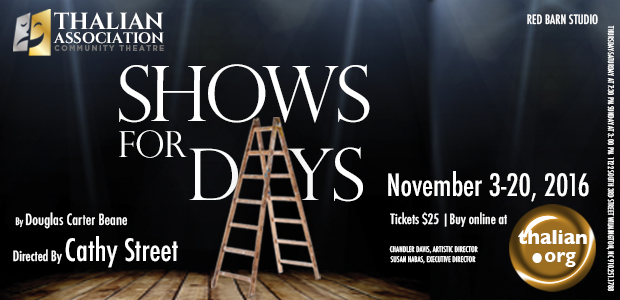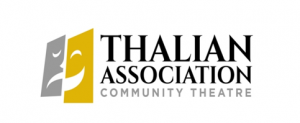 FOR IMMEDIATE RELEASE
CONTACT:
Chandler Davis
Artistic Director
Thalian Association Community Theatre
910-251-1788
THALIAN ASSOCIATION COMMUNITY THEATRE BRINGS NEW PLAY TO LIFE IN LOCAL PRIMERE
WILMINGTON, NC — Thalian Association Community Theatre will open a new play, Shows for Days, at Red Barn Studio on November 3rd. The show is penned by Douglas Carter Beane, the Tony nominated playwright behind the book for musicals Xanadu and Sister Act as well the author of the critically acclaimed As Bees in Honey Drown.
Wilmington newcomer Cathy Street will direct the play, which takes an intricate look at the community theatre experience. Street hails from Nashville where she held the position of Artistic Director at Street Theatre Company. "I love working on this show because it brought up great memories about my own start in theatre when I was about the same age as the main character. For people who are involved in theatre, I think it brings back great memories and for people who enjoy theatre but haven't participated, it's a funny insight into the craziness of theatre life. As far as working in the Wilmington community, everyone has been so warm and welcoming and it has been easy to feel right at home."
The original production of Shows for Days garnered attention after Broadway star Patti LuPone famously stopped in the middle of a performance to chastise an audience member whose cell phone went off during the show. "I think it's very fitting for the Official Community Theatre of North Carolina to produce such a wonderful play about the joy, relationships, and long hours that come along with a life in community theatre", says Artistic Director Chandler Davis.
Shows for Days will run from November 3rd through November 20th at Red Barn Studio. Shows are at 7:30 Thursday through Saturday and 3:00 on Sundays. To purchase tickets, please visit Thalian.org or dial 910-251- 1788. Tickets may also be purchased at the door.
Established in 1788, Thalian Association Community Theatre is a non-profit, membership organization dedicated to enhancing the Cape Fear region through live community theatre and arts education. Thalian Association Community Theatre produces five major productions annually on the Main Stage at historic Thalian Hall, four productions at the Red Barn Studio and professionally manages the Hannah Block Historic USO/Community Arts Center for the City of Wilmington. The youth theatre program offers training and performance opportunities for children age seven through high school seniors. In 2007, Thalian Association Community Theatre was designated North Carolina's Official Community Theater by the state legislature.