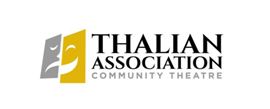 FOR IMMEDIATE RELEASE
CONTACT:
Susan Habas
Thalian Association Community Theatre
910-251-1788
LADY DAY AT EMERSON'S BAR & GRILL
Production to Benefit Thalian Association Community Theatre at the Mad Boar Restaurant in River Landing
WILMINGTON, NC – Thalian Association Community Theatre and the Mad Boar Restaurant will present Lady Day at Emerson's Bar & Grill on Saturday August 29, 2015 in the beautiful Celtic Court Ballroom located inside the Mad Boar Restaurant. Fresh from a sold out run at the Red Barn Studio Theatre, Lady Day at Emerson's Bar & Grill recounts Billie Holiday's life story through her poignant voice and moving songs.
The play is set in 1959 in a seedy bar in Philadelphia. The audience is about to witness of the greatest jazz singers of all-time, as she shares her loves and her losses, in a final performance, four months before her death. Among the songs that will be performed: "God Bless the Child," "What a Little Moonlight Can Do," "Strange Fruit" and "Taint Nobody's Biz-ness."
Lady Day will be portrayed by Wilmington Songstress LaRaisha DiEvelyn Burnette and the production is directed by Thalian Association Community Theatre's Artistic Director, David T. Loudermilk. The musical play is the community theatre association's third production in Duplin County and part of an ongoing outreach program created to bring community theatre to all residents in southeastern North Carolina.
The evening will begin with cocktails at 5:00 pm followed by a sumptuous three course plated dinner and the performance. Tickets for the event are $54.95 which includes tax, gratuity with a $25.00 cover charge to benefit Thalian Association Community Theatre. Complete details including the dinner menu are available on thalian.org. Tickets must be reserved in advance with Madi McDougald at 910-285-1006.
Established in 1788, Thalian Association Community Theatre is a non-profit, membership organization dedicated to enhancing the Cape Fear region through live community theatre and arts education. Thalian Association Community Theatre produces five major productions annually on the Main Stage at historic Thalian Hall, a summer season at the Red Barn Studio and professionally manages the Hannah Block Historic USO/Community Arts Center for the City of Wilmington. The youth theatre program offers training and performance opportunities for children age seven through high school seniors. In 2007, Thalian Association Community Theatre was designated North Carolina's Official Community Theater by the state legislature.