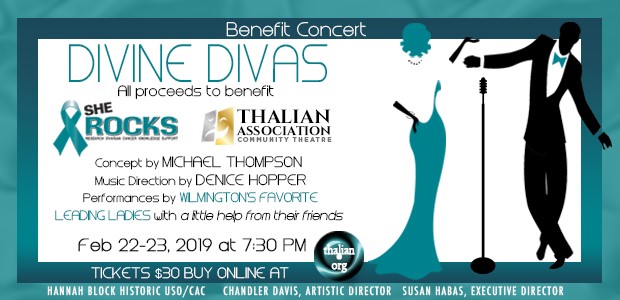 FOR IMMEDIATE RELEASE
CONTACT:
Susan Habas
Thalian Association Community Theatre
The Divine Divas Are Back!
A She ROCKS & Thalian Association Benefit Concert
WILMINGTON, NC –Thalian Association Community Theatre (TACT) is pleased to announce the third annual Divine Divas, a special two-night only concert to benefit She Rocks (Research Ovarian Cancer Knowledge Support) and TACT. Divine Divas will be presented on the 2nd Street Stage in the Hannah Block Historic USO/Community Arts Center Friday February 22 & Saturday February 23, 2019 at 7:30 pm. Tickets are $30 and can be purchased at thalian.org, she-rocks.org or 910-251-1788.
The evening will feature performances from leading ladies of Wilmington's theatre
community with a little help from their friends; well-known local actors and Thalian Association youth performers. This year the show will celebrate songs of radio, stage, and screen with a special Motown Mash-Up to honor She ROCKS co-founder Beth Quinn. The show will be directed by Mike Thompson with music direction by Denice Hopper.
Popular Wilmington Community Theatre veteran Jeff Phillips will return to host both evenings. Mr. Phillips has been active on our community stage for more than 25 years, hosted the 2014 Star News Media Wilmington Theatre Awards and was the 2012 recipient for Best Actor in a Musical. Each night a live auction will be led from the stage by a surprise guest auctioneer. Entertainment will begin each evening with a lobby pre-show provided by Wilmington Symphony Orchestra youth performers and Susan Savia, a four-octave vocalist.
She ROCKS started in 2014 with two strong women who banded together to do something about what is often a devastating diagnosis. In just five years, She ROCKS has raised more than three quarters of a million dollars. In keeping with its mission, 75% of the funds have been given to UNC Lingerger Cancer Center for groundbreaking research, and 25% were used for local support to anyone receiving treatment for any type of cancer at NHRMC Zimmer Cancer Center.
"Our contributions thus far have been significant enough that Lineberger named its ovarian cancer research lab for She ROCKS founder Beth Quinn," said Mary Barto, president of the She ROCKS board, who co-founded the organization with Beth and Tracy Brown. "Locally, we have made an impact through purchasing things like comfortable new chemo chairs, vein finders, wigs and gas cards. We have also expanded our reach into the western part of the state with She ROCKS The Triad, raising more vital funds and reaching many more people with our message. We are so grateful for the continued support."
"We are delighted to provide a wonderful, inspiring evening that supports She ROCKS and our programs," said Susan Habas, Executive Director of Thalian Association Community Theatre. "TACT was named Official Community Theatre of NC by the General Assembly to honor our tradition of community involvement and outreach. Our partnership with She ROCKS is a natural as we both work towards healing and improving the human condition."
About She ROCKS
She ROCKS was founded by Beth Quinn and Mary Barto in May 2014 after Beth was diagnosed with stage IV ovarian cancer. Because there are no screenings for ovarian cancer and a person is typically asymptomatic until it is very advanced, Beth could not have caught this disease earlier. Her best friend, Mary Barto, agreed that this was unacceptable, and the two of them partnered with another close friend, Tracy Brown, to do something about it. She ROCKS exists to bring awareness and attention to ovarian cancer through funding groundbreaking research, and by helping women who are undergoing treatment for cancer. The organization is solely committed to these pursuits and it gives every penny that it takes in toward these goals. She ROCKS believes it is our duty as women to help one another in whatever ways we are able.
About Thalian Association Community Theatre
Established in 1788, Thalian Association Community Theatre is a non-profit, membership organization dedicated to enhancing the Cape Fear region through live community theatre and arts education. Thalian Association Community Theatre produces five major productions annually on the Main Stage at historic Thalian Hall and professionally manages the Hannah Block Historic USO/Community Arts Center for the City of Wilmington. The youth theatre program offers training and performance opportunities for children age seven through high school seniors. In 2007, Thalian Association Community Theatre was designated North Carolina's Official Community Theater by the state legislature. For more information, go to www.thalian.org.