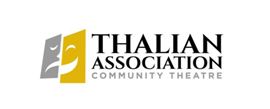 FOR IMMEDIATE RELEASE
CONTACT:
Thalian Association Community Theatre
910-251-1788
A Relevant Classic: Death of a Salesman
WILMINGTON, NC – Thalian Association Community Theatre is honored to celebrate the centennial of Arthur Miller's birth with the presentation of Death of a Salesman. This Pulitzer and Tony Award winning classic runs February 4 – 14, at Thalian Hall, 310 Chestnut Street. Performances are Thursdays, Fridays and Saturdays at 7:30 pm with Sunday matinees at 3:00 pm. Tickets are $30 with senior, youth and group discounts available and Thrifty Thursday performances are always $15. For tickets call 910-632-2285.
Death of a Salesman, directed by Charles Grimes, is considered by many to be one of the most important plays in modern American theatre. It tells the story of Willy Loman (Jim Bowling), a down-on-his-luck, middle-aged salesman, unable to comprehend how or why he never achieved his dream of success and fortune. Faced with the realization that his life is a failure, Willy becomes further estranged from his family, and begins to lose contact with reality, having imaginary conversations with his long lost brother Ben (Ken Vest). Linda (Elaine Nalee), his devoted wife, and their son's Biff (Wilson Meredith) and Happy (Josh Bailey) wage a desperate struggle to engage him in the present, in hopes to desperately hold the family together. This masterpiece is a work of tremendous emotional impact and an unflinching examination of the American Dream that is as relevant today as the day it was written.
Established in 1788, Thalian Association Community Theatre is a non-profit, membership organization dedicated to enhancing the Cape Fear region through live community theatre and arts education. Thalian Association Community Theatre produces five major productions annually on the Main Stage at historic Thalian Hall, a summer season at the Red Barn Studio and professionally manages the Hannah Block Historic USO/Community Arts Center for the City of Wilmington. The youth theatre program offers training and performance opportunities for children age seven through high school seniors. In 2007, Thalian Association Community Theatre was designated North Carolina's Official Community Theater by the state legislature.