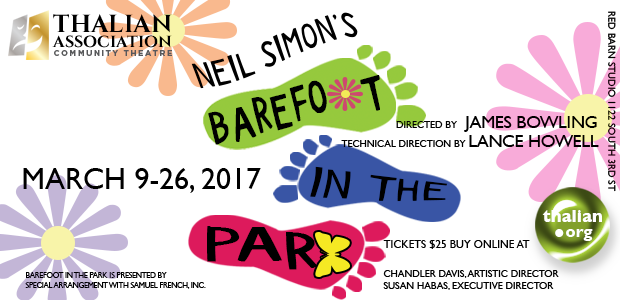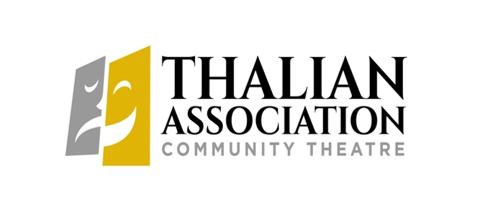 FOR IMMEDIATE RELEASE
CONTACT:
Chandler Davis, Artistic Director
Thalian Association Community Theatre
910-251-1788
Dare to go Barefoot in the Park
Thalian Association brings joyful, boisterous young love to the Red Barn
WILMINGTON, NC – There's nothing quite like the exhilaration of your first apartment together – except maybe the perplexity of figuring it all out. Thalian Association Community Theatre is proud to present the heartfelt and hilarious Barefoot in the Park by Neil Simon. The production opens March 9 and runs through the 26th at the Red Barn Studio. It stars Wilmington Theatre veterans Josh Bailey, Amanda Young and Denise Bass.
The play premiered on Broadway in 1963 and starred Robert Redford and Elizabeth Ashley. Corie and Paul Bratter are newlyweds, and their first home is an apartment on the top (very top) floor of a brownstone in New York City. During the course of their first post-honeymoon four days of married life, the couple learns to live together while facing life's usual challenges. Though crazy about him, Corrie wants Paul to become more easy-going, for example, and to run "barefoot in the park."
Barefoot in the Park, directed by Jim Bowling, will run Thursdays through Saturdays at 7:30pm with Sunday matinees at 3pm. The box office opens ninety minutes before each performance and tickets are available. Red Barn Studio is located at 1122 South 3rd Street in downtown Wilmington.
Established in 1788, Thalian Association Community Theatre is a non-profit, membership organization dedicated to enhancing the Cape Fear region through live community theatre and arts education. Thalian Association Community Theatre produces five major productions annually on the Main Stage at historic Thalian Hall and professionally manages the Hannah Block Historic USO/Community Arts Center for the City of Wilmington. The youth theatre program was created in 1979 to offer training and performance opportunities for children age seven through high school seniors. In 2007, Thalian Association Community Theatre was designated North Carolina's Official Community Theater by the state legislature.