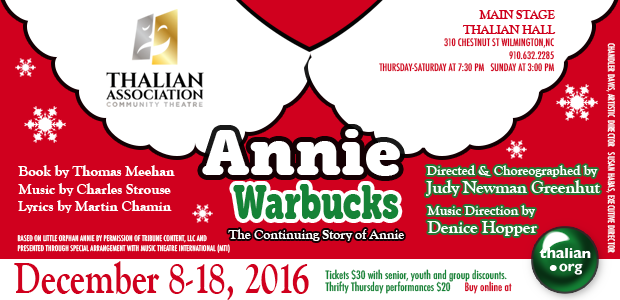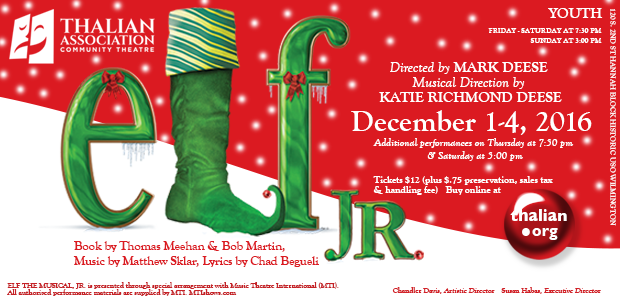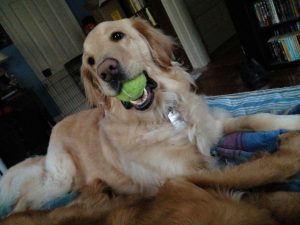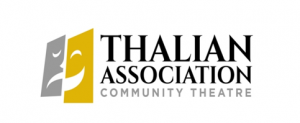 FOR IMMEDIATE RELEASE
CONTACT:
Susan Habas
Thalian Association Community Theatre
910-251-1788
TWICE THE HOLIDAY FUN FOR THE WHOLE FAMILY
WILMINGTON, NC – Thalian Association Community Theatre (TACT) is presenting two special holiday musical productions that families can enjoy together. First up is the youth theatre production and Wilmington premiere of Elf Jr. on the Second Street Stage at the HBHUSO/Community Arts Center. Based on the beloved 2003 hit movie, Elf Jr. tells the story of Buddy, a young orphan who mistakenly crawls into Santa's bag of gifts and is transported to the North Pole.
"We have something very special planned for the Elf Jr. audiences," said Susan Habas, Thalian Association Community Theatre Executive Director. "The original Buddy, Will Ferrell, has filmed an introduction just for these performances. Mr. Ferrell has family here in Wilmington and as the father of three boys, he is very supportive of youth theatre arts and education."
There will also be paintings of the local 'elves' who will be appearing on stage on display in the lobby of the Historic USO building. Painted by 28 artists from the Wilmington Art Association (WAA) during the run of the play, this marks the third collaboration between TACT and the WAA to support performing and visual arts education for our young people. The paintings will be on sale to the public with a portion of the proceeds to benefit the Community Arts Center. See the modern holiday classic and embrace your inner elf for one weekend only December 1st – 4th. Performances are Thursday, Friday and Saturday at 7:30 PM; Saturday and Sunday matinees at 3:00 PM. To purchase tickets, visit Thalian.org or call 910-341-7860.
Annie Warbucks, the sequel to the classic family favorite Annie will be presented on the Main Stage of Historic Thalian Hall. The action picks up right where Annie leaves off, when Child Welfare Commissioner Harriet Doyle arrives on the scene to inform Daddy Warbucks that he must marry within 60 days so that the newly adopted Annie can have a proper mother. In the end, Daddy Warbucks' whirlwind search for a fitting bride uncovers not only a plot by Doyle and her daughter to strip him of his fortune, but also his true feelings for Grace Farrell.
"The iconic characters Annie and Daddy Warbucks will be joined onstage by Annie's loyal canine companion Sandy, said Habas. "Auditions were held to find the perfect diva dog to play Sandy and after fierce competition, Sadie Lawson an English Cream Golden Retriever was selected to play the coveted role."
Watch Annie and Sandy save the day December 8 – 18 at Historic Thalian Hall, 310 Chestnut Street in downtown Wilmington. Performances are Thursday through Saturday at 7:30 pm with a Sunday matinee at 3:00pm. Tickets are available at Thalian.org or 910-632-2285.
Established in 1788, Thalian Association Community Theatre is a non-profit, membership organization dedicated to enhancing the Cape Fear region through live community theatre and arts education. Thalian Association Community Theatre produces five major productions annually on the Main Stage at historic Thalian Hall, a summer season at the Red Barn Studio and professionally manages the Hannah Block Historic USO/Community Arts Center for the City of Wilmington. The youth theatre program offers training and performance opportunities for children age seven through high school seniors. In 2007, Thalian Association Community Theatre was designated North Carolina's Official Community Theater by the state legislature. For more information, go to Thalian.org