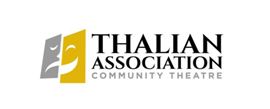 FOR IMMEDIATE RELEASE
CONTACT:
Susan Habas
Thalian Association Community Theatre
910-251-1788
THALIAN ASSOCIATION COMMUNITY THEATRE ANNOUNCES RECIPIENTS OF THE 2015 DONN ANSELL AND PAT HINGLE SCHOLARSHIPS
WILMINGTON, NC – Thalian Association Community Theatre, North Carolina's oldest community theatre, is proud to announce that Zachary Hutchinson is the recipient of the $2600 Donn Ansell Scholarship and Helena Boldizar will receive the $500 Pat Hingle Scholarship. The two scholarships are administered annually by Thalian Association Community Theatre and awarded to a deserving high school senior who has proven to be a serious student of the theatre with plans to further their theatrical education following graduation. Applicants must have been active with the community theatre association as performers, actors or technicians.
Zachary is the son of LeAnne and Dennis Hutchinson of Wilmington. He auditioned for his first musical at the tender age of ten and has been active on and off stage since then, providing sound design and support for many Youth Theatre and Thalian Hall productions. He was last seen onstage as Bustopher Jones in the Youth Theatre season finale Cats. Zachary is a member of the Hanover Singers, National Honor Society, Port City Community Church and recently attained the rank of Eagle Scout from the Boys Scouts of America. A senior at New Hanover High School, Zachary plans to pursue a career in film and video production and will attend Cape Fear Community College.
Helena is the daughter of Nanci and John Boldizar of Wilmington. In 2003 she was cast in the Youth Theatre production Babes in Toyland and has been onstage ever since, most recently as Demeter in Cats. She is an executive board member of Thalian Association Community Theatre Youth Leadership program and wrote the script and directed a PSA about the importance of conscientious decision making for young adults that will be distributed throughout the community. Helena is a member of the National Honor Society, John T. Hoggard High School Student Council, the Voyagers' Choral Ensemble and the recipient of the 2013 Rotary Youth Leadership Award. Helena plans to study broadcast journalism and theatre at NC State University.
The Pat Hingle Scholarship was established in 2008 in honor of the renowned actor of stage and screen who once called Wilmington home. A long time veteran of stage, film and television, Mr. Hingle was best known in recent years for his role as Commissioner Gordon in four Batman movies. The Donn Ansell Scholarship was established in 2013 by his family to honor Donn's many achievements in local theater, radio and television, his service to the Wilmington community and his proud history with Thalian Association Community Theatre as its first Managing Director. The scholarship will be funded through the generous contributions of the Ansell family and friends.
The scholarship awards will be presented to Ms. Boldizar and Mr. Hutchinson at the Thalian Association Community Theatre Annual Meeting on June 17th in the Donn Ansell Studio at the Hannah Block Historic USO/Community Arts Center. Michael Walton Jones, Donn Ansell's life partner and well known member of the theatre community, will present the Donn Ansell scholarship award.
Established in 1788, Thalian Association Community Theatre is a non-profit, membership organization dedicated to enhancing the Cape Fear region through live community theatre and arts education. Thalian Association Community Theatre produces five major productions annually on the Main Stage at historic Thalian Hall, a summer season at the Red Barn Studio and professionally manages the Hannah Block Historic USO/Community Arts Center for the City of Wilmington. The youth theatre program offers training and performance opportunities for children age seven through high school seniors. In 2007, Thalian Association Community Theatre was designated North Carolina's Official Community Theater by the state legislature.
Helena Boldizar

Recipient of Pat Hingle Scholarship

Zachary Hutchinson

Recipient of Donn Ansell Scholarship