The 2nd Annual "Show Me a Show Tune"
The Voting is Over! Congratulations to the Top Three and THANK YOU to everyone who participated!
1st Place Avri Hepler $1495.00 What Baking Can Do from Waitress
2nd Place Marley Aliah  $860.00 Flowers from Hadestown
3rd Place  Garion Worldslayer and J.T. Fritsch $735.00 Go The Distance from Disney's Hercules
See the Videos!
Support Thalian Association productions, youth theatre programs, and arts education by voting for your favorite Show Me A Show Tune video!
The sing-off goes live with sixteen contestants, 6 – 77 years old, creating fourteen unique video performances of classic and contemporary Broadway songs. Vote for your favorites on Facebook using the Donate button at https://www.facebook.com/showmeashowtune/ or view the SMAST song list on YouTube and vote here! The top three fundraising videos will be declared the winners. Minimum five dollar donation per vote. Vote now and vote often for your favorites!
Thank you for supporting Thalian Association Community Theatre!
Prizes and Incentives for the Top Three: 
Top three winners will receive a cash award as follows, 1stplace $500, 2nd place $250, & 3rd place $150
A custom wooden trophy designed and created by "Kids Making It"
Award presentation on the 2nd Street Stage at the Hannah Block Historic USO Building at 3:00 pm November 14th during the Youth Theatre production Charlotte's Web. (winners will be notified by phone 11/9/21)
Winning videos will be permanently hosted on TACT's SMAST Facebook Page and You Tube.
2020 Show Me a Show Tune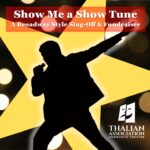 First Sing-Off Fundraiser to Support Thalian Association Raises $11,234
Samuel Hatch received the most votes raising $2150 for his rendition of Out There from Disney's Hunchback of Notre Dame. Placing second in the sing-off was Sadler Selby with $1600 in donations for the community theatre association with his rendition of Electricity from Billy Elliot the Musical. Marley Aliah completed  the Top Three with Something's Coming from West Side Story and $890 in contributions.
2020 Show Me a Show Tune Top Three!