Thalian Association Community Theatre is proud to be a Certified Arts Friendly non-profit arts organization in Wilmington, North Carolina!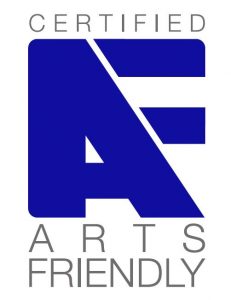 The Arts Friendly Foundation strengthens our community by supporting the operations of arts nonprofits.  Your donation to the Arts Friendly Foundation is added to this year's total and divided evenly between Certified Arts Nonprofits.
Certified Arts Nonprofits for 2018 are:  1) DREAMS Center for Arts Education, 2) Opera Wilmington, 3) Thalian Association Community Theatre, 4) Wilmington Art Association, and 5) Wilmington Jewish Film Festival
Certified Arts Friendly Businesses support the administration of the foundation, so all of your donation received goes to local arts nonprofits.
Donate with Square:  squareup.com/store/artsfriendlyfoundation or mail your check to: 
Arts Friendly Foundation, PO Box 514, Wilmington, North Carolina  28402
(Please note:  Square takes a small processing fee / A check does not)
This year's fundraising cycle ends November 6, 2018 at which point accumulated donations are distributed.