Check Back Later for Ticket Availability!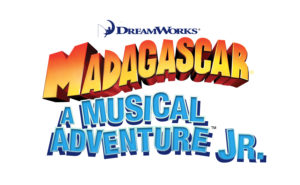 Based on the DreamWorks Animation Motion Picture
Book by KEVIN DELAGUILA
Original Music and Lyrics by GEORGE NORIEGA & JOEL SOMEILLAN
Madagascar – A Musical Adventure JR.
Is presented through special arrangement with Music Theatre International (MTI).
All authorized performance materials are also supplied by MTI.
Join Alex the Lion, Marty the Zebra, Melman the Giraffe, Gloria the hip Hippo and those hilarious, plotting penguins as they bound onto your stage in the musical adventure of a lifetime.  Based on the smash DreamWorks animated motion picture, Madagascar – A Musical Adventure JR. follows all your favorite crack-a-lackin' friends as they escape from their home in New York's Central Park Zoo and find themselves on an unexpected journey to the madcap world of King Julien's Madagascar.  Alex the lion is the main attraction at New York's Central Park Zoo. He and his best friends, Marty the zebra, Melman the giraffe and Gloria the hippo, have spent their whole lives in blissful captivity. Marty lets his curiosity get the better of him and makes his escape — with the help of some prodigious penguins — to explore the world.
Thalian Youth Theatre Presents DreamWorks Madagascar the Musical Adventure Jr.
Featuring an all rookie cast with free tickets to the public performances
Thalian Association Community Theatre has very special plans for the 4th show of the 2023-2024 Youth Theatre season. DreamWorks Madagascar the Musical Adventure Jr. will feature an all-rookie cast with all seats for the six public performances free to the public on a first come basis.  Our goal is to make the magic of live theatre accessible to all families to experience together! The production will be directed by Emily Graham and performed on the 2nd Street Stage at the Hannah Block Historic USO/Community Arts Center, Mar. 15 – 24, 2024. Shows are scheduled Fri. – Sat. at 7:30 pm with Sun. matinees at 3:00 pm.
The all-rookie production will give youth who have never been cast in a Thalian Association production the chance to participate in a Youth Theatre show.  All roles are available for ages 7 through high school senior. Director Emily Graham has created a special how-to video and flyer explaining the audition process to be distributed to area youth organizations. Audition workshops will be scheduled at a few designated locations November through mid-December.
Anyone wishing to audition for DreamWorks Madagascar the Musical Adventure Jr. should call 910-251-1788 beginning Monday December 4th at 10:00 am. The audition will be Saturday January 6th, 10:00 am, at the Community Arts Center, 120 S. 2nd Street and everyone will have an assigned time. Please prepare a 30 second song of your choice to sing a cappella and wear comfortable clothing.
Free tickets will first be available to area youth organizations in February then open to everyone on a first come basis March 1st. After that date tickets can be reserved at 910-251-1788 or thalian.org. In addition to the six public shows, two daytime school performances will be offered with teaching resources to support classroom learning.
Join everyone's favorite zoo crew on a comedy packed journey around the world. After Marty the Zebra decides to chase his dream to see life outside of the zoo, we follow Marty and his crew of unlikely friends Alex the Lion, Gloria the Hippo, and Melman the Giraffe on a wild and wacky adventure from New York's Central Park Zoo to the island of Madagascar. Will life outside of the cage be all they had hoped, or will they miss the life of luxury they have taken for granted? Either way, it is sure to be one "crack-a-lackin'" journey that will make the old and young want to "move it, move it!"